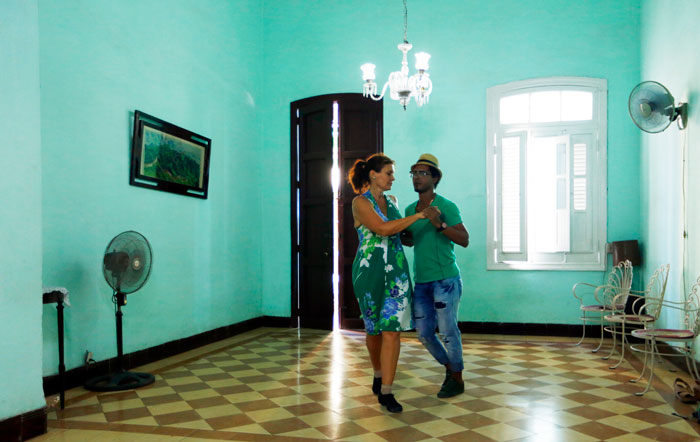 Travel is possible again. But many things have changed. No reason NOT to travel to Cuba. You can now get recommendations for good operators and group tours at "Danza y Movimiento".
Salsa dance trips in November and February
These days I got in contact with an operator who offers dance trips in November 2022 and February 2023, where you can get to know the life in Cuba first hand. If you want to know more, feel free to get in touch via the contact form.
"Danza y Movimiento" itself is no longer a tour operator, as we could no longer afford that luxury in the context of a world situation known in new parlance as a "pandemic", given the regulations imposed by the authorities. However, I am trying to find out who is currently offering tours that are related to our previous offering.
A few thoughts on the current situation in Cuba ...
There is not much positive to report at this time. For my impression gained from conversations and reports, the leadership of the country has failed with their policies of the past years. Apart from the problems that have existed for decades as a result of the omnipotence of the U.S. neighbor, considerable resistance from within the country is to be expected.
A large part of the population wants Coca Cola, Whatsapp and Google. There is hardly any awareness that the economic misery of most people in the country will only grow along this path. A Cuban who considers himself progressive already communicates via the software of the king of manipulators. This refers to Mark Zuckerberg, who pulls his invisible strings in Cuba as in many other countries. Anyone who does not have Zuckerberg software on their mobile monitoring device is often lost in terms of communication in Cuba (as in many other countries) today. For Mr. Zuckerberg, the embargo obviously does not seem to apply ...
At the same time, the following happens(s):
The scenario of a covid threat was staged hardcore in Cuba. The population was locked up in their homes for months. The most important source of income, tourism, was suspended. Today in Cuba, about 90% of people over the age of two are vaccinated, often economically ruined, and trying to leave the country if possible. To this day, I have not understood what the Cuban regime wanted to achieve with this staging. Perhaps the country was counting on exporting its protein-based vaccines developed in Cuba to provide an alternative to mRNA gene shots. In doing so, however, the Cubans probably underestimated the embargo imposed by the pharmaceutical companies on anything that is not rMNA and does not come from their own stable.
The most important issue, however, is currently (once again) the energy supply. In the provinces, the power is sometimes switched off for 10-15 hours at a time. Even the best refrigerator becomes a sauna. Further consequences in a tropical country in summer can be imagined by everyone. A major fire at the supply depot in Matanzas could be the straw that breaks the camel's back in terms of discontent. Here, at the beginning of the month, about half a month's worth of fuel for the whole of Cuba went up in flames.
The causes of the energy crisis are well known. For me, it is incomprehensible that, to my knowledge, more or less nothing has been done to prevent this foreseeable development. Cuba has enough other energy reserves in the form of sun and wind as an alternative to decades-old combined heat and power plants fueled by heavy oil, which incidentally have contributed to the abundant respiratory diseases in some regions over the past decades. But it was only a few years ago that Cuba began to take a serious interest in alternative energy production. Too late?
Even if nothing draws me to Cuba anymore and my apartment in Havana is still for sale - I enjoyed my time in Cuba. Cuba is simply worth a trip. Even if the spirit of Cuba is getting more and more lost with the renewed colonization by digital media, there is still an incredible amount to discover and experience that is simply different from the world we have become accustomed to in our own everyday environment. This uniqueness was a major reason for me to start offering cultural tours to Cuba 26 years ago.
And even in 2022 I can still say - even if the country is economically fucked, it still has great wealth to show in other respects.
(Photo: Sabine Jacob)