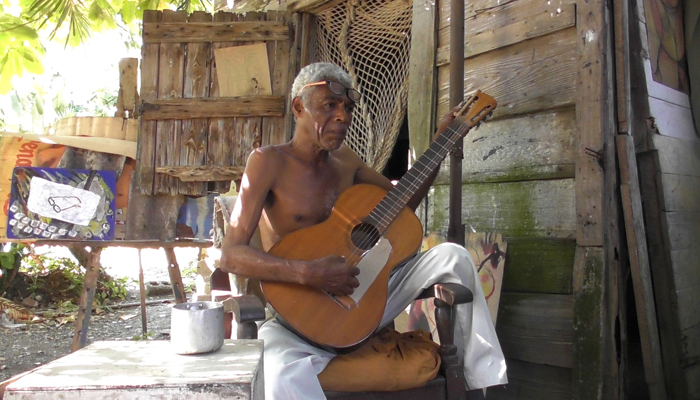 In front of the small, somewhat crooked wooden house, Alvarado is sitting in the shade of a palm tree with two musicians; they play the son "Tic Tac" in honor of Antonio, who has just arrived. Alvarado calls his 80 year old friend Tic Tac, because you can hear his cane from afar: tic tac tic tac.
The other two musicians are friends who happened to be passing by. A former cop who plays the tres guitar. And a rum-loving neighbor who can make music on empty bottles. Antonio sits next to it contentedly, sometimes clapping along with the rhythm.
Alvarado almost always works like this - spontaneously and surrounded by the people of his hometown. His lyrics reflect events from his everyday life. Living in Pueblo Nuevo, a district of Mella in Eastern Cuba.
The big old sugar cane factory stands in the center of the settlement and towers above everything. It looks a bit like an old cathedral with two towers. "Antonio J. Mella" is written on the chimneys, the name of the co-founder of the Communist Party of Cuba.
Of course, Alvarado wrote a song about the Central, – that's what they call the sugar cane factory, and almost everyone makes their living by it. His song is always played at the opening and at the end of the Zafra, the sugar cane harvest, – at a small celebration on the premises of the Central. The song is praise for the workers, praise for the rhythmic sugar cane factory, without which Mella would not exist.
The German filmmaker Hans Böffgen got to know Alvarado when he was looking for local musicians to make music for his documentary "El melao de cana". A documentary about life around the Central. His attention was brought to Alvarado. Böffgen uses his song about the Central in the film.
This was also the beginning of a friendship. Both are painters, and painting together deepened their friendship. Alvarado's wooden house, especially the shady place in front of it, became the common taller (workshop). Neighbors came by, sat down for portraits and a glass of rum, musicians came and left. Many children come here again and again to paint.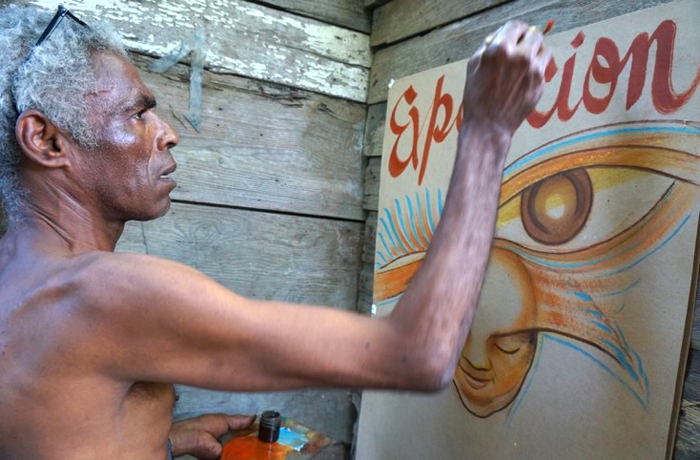 Later they were invited to do a joint exhibition in the state gallery in Santiago de Cuba.
Everyone in town knows Alvarado. Especially since he also composed and wrote Mella's "Hymn". "Soy de Mella compai". Every child there knows it. And again and again, when Alvarado strolls through the streets with his guitar, people shout "Soy de Mella compai ..."
But you also know him in the neighboring towns, and even in Santiago de Cuba, 80 kilometers away. And every now and then the local radio station plays a song by him.
Once, when Alvarado and Böffgen were looking for oil paints in Santiago de Cuba, a man shouted from a car "Hey, Alvarado!" He stopped and they greeted each other warmly. It was the creator of the monumental Revolution Square in Santiago de Cuba and one of Cuba's most famous artists, the internationally known sculptor and painter Alberto Lescay. He asked the two of them to come into his studio. He raved about Alvarado's art, his music, his painting and his personality.
Every now and then, art collectors, mainly from the USA and Canada, come to Mella, which is an important place for "naive art" in Cuba. Alberto Lescay founded an artist group many years ago. They exhibited together. Alvarado has also sold some paintings but now he despises the "brand" naive art. He believes many artists simply recreate this artform.
Alvarado does not call himself a naive artist. Sometimes, at exhibitions, when children say: I like the picture, then he gives it away. But when a prospective buyer makes an offer, he sticks to his price. In an art book published in France, Alvarado was presented as one of the most important Cuban "naive artists". He has a tattered copy of this book from the 1980s. Unprinted parts of the page are covered with sketches for new pictures. Paper is scarce in Cuba.
Alvarado wrote "a few hundred" songs. In histaller there are pieces of paper with lyrics and ideas for songs. This can be the about an argument with a friend, the memory of a past love, or a song of praise to a friend, like "Tic Tac".
Alvarado is also the leader of a sextet, which are all brilliant musicians from Mella who perform at festivals all over the area. He's also an excellent entertainer, with an incredible stage presence.
Alvarado says he likes living in Mella. But sometimes he longs for the big wide world. Then he thinks of his time as a seaman in the Cuban fishing fleet. He knows the oceans, the ports in Africa, Asia, the USA. He drank rum in the docks in Gran Canaria, Panama and Luanda. He spent his life on ships for 12 years and his guitar was always with him. His mother had promised him the guitar when he became seriously ill as a teenager. Recovered, he immediately began to compose his first songs.
Alvarado's great love is his Trio son Alvarado, with the virtuoso Tres guitarist Jorge Luis Reyes de Bro, and his son, the bongo player Rubisley Alvarado Ramirez.
In 2018 the trio recorded their first CD in a studio in Santiago de Cuba: "Una mirada fraternal". The producer is Hans Böffgen. At the same time, Böffgen and Alvarado made two films and several music videos.
In October 2019 Alvarado came to Germany for the first time, exhibited his pictures in a Frankfurt gallery, and made a small tour of Germany, small concerts and exhibitions. A second, larger tour with his entire trio was planned for 2020. Due to the Corona crisis, the appointments could not be kept.
Anyone interested in "Una mirada fraternal" hystory of origin - the one-hour film with the same title can be seen here: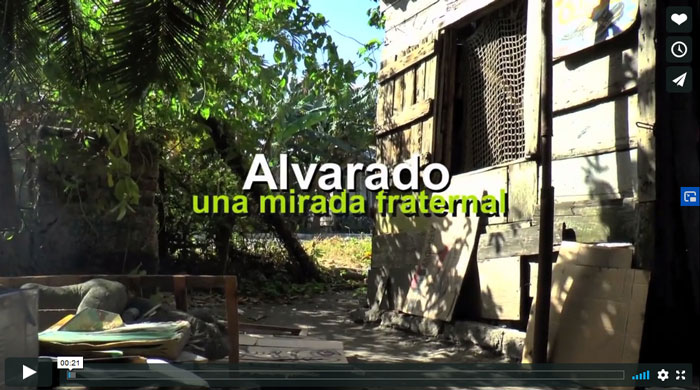 (Text based on a template by Hans Böffgen; Photos Hans Böffgen)